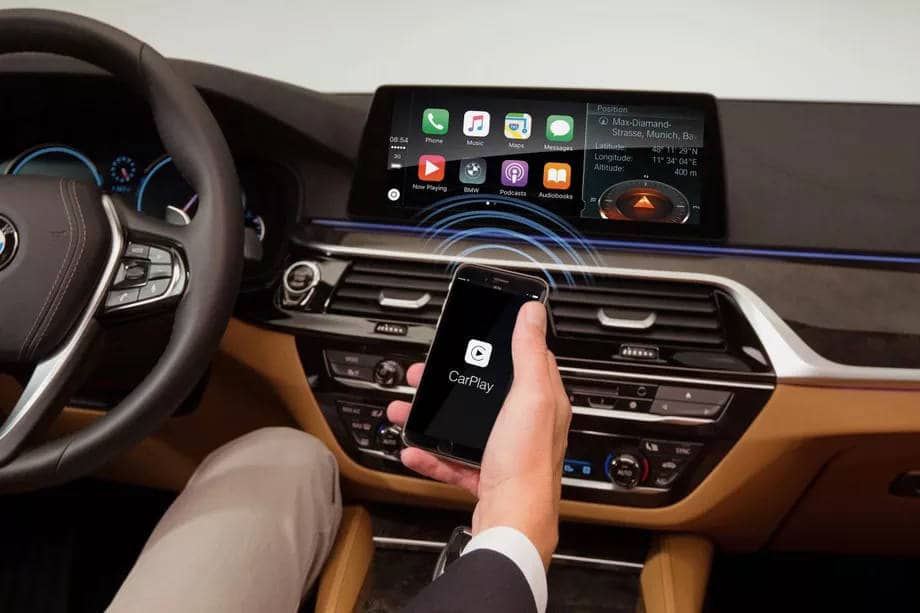 Continuing to promise that your Ultimate Driving Machine is also 'Designed For Driving Pleasure' the BMW group offers an instant upgrade to your iDrive with the addition of Apple CarPlay technology for select BMW models. It's also available as a retrofit, so ask us here at Ian's Garage whether you model qualifies.
With Apple CarPlay installed, you will benefit from a smarter, safer and more intuitive driving experience. Apple CarPlay allows you to enjoy the ease and convenience of your iPhone with the familiar touchscreen display of your BMW. BMW models with Apple CarPlay provide you with access to Siri voice control features: With Siri in the car with you, you can answer phone calls, listen to voicemail, send text messages or open your favorite apps without taking your hands off the wheel or eyes off the road.
For those new to the 'Internet of Things', CarPlay basically mirrors your iOS device functionality to BMW's touchscreen display, meaning that CarPlay actually runs from your iOS device. BMW software does, adding value by pairing your iOS device with your car.
But what if you own an Android Smart Phone? At Ian's Garage we can reprogram your car infotainment system by using our BMW genuine diagnostic tools. Ian's Garage certified technicians can quickly update your car software, allowing you to enjoy the navigation system of your choice without any service interruption.
If you are the proud owner of a 2019 BMW model we can reprogram your BMW employing the same professional tools used by dealerships. Is your BMW prior to 2019? No worries. At Ian's Garage we can help you too. Using the latest BMW diagnostic tools we can update, reprogram, and diagnose any electronic system connected to your vehicle, including iDrive in-car communications and entertainment system.
---
A new report suggests that BMW is working with Apple to develop a new CarKey feature that would let drivers use their iPhone in place of a physical fob. 9to5mac.com first reported on the new CarKey feature discovered in a beta version of iOS 13.4, and now says that it has found code in iOS 14 that shows BMW is the likely first partner.
9to5mac reports that the new version of Digital Key will use a new ultra-wideband chip found in the iPhone 11 versions, which BMW says will improve anti-theft protection and add that in-pocket convenience. Combined with wireless CarPlay this could let you leave your phone in your pocket to unlock, start, and get your calls, maps, and music from your phone.